Designed for the 2018 and 2019 Harley-Davidson Fat Bob Softail (FXFB/FXFBS), our American-made tag mount relocates the tag to the center of the Fat Bob's rear fender. Sized for North American tags and finished in a satin black powder coating, the tag mount is compatible with 10″ and 12″ radius tag frames (not included). The tag mount can be installed with or without the factory rear reflector.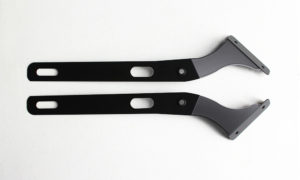 2018-2019 Harley-Davidson Fat Bob (FXFB/FXFBS) Tag Mount w/Free USPS Ground Shipping in the Continental US.
$119.95
Or buy direct and pay with PayPal
You can download a copy of the installation instructions (included in your package) to get a start on planning to install your tag mount.

Tag Mount Installation Instructions
To ensure that the tail lights are evenly spaced after removing the factory tag mount, a wider spacer stem can be ordered through your local Harley-Davidson dealer. The wider spacer comes in Chrome (HD part #69438-06) or black (HD Part #69933-08). The tail light spacer stem is not included in this kit.
Tag frame not included. We recommend the Custom Dynamics ® LPF-RAD radius tag frame with tag illumination LEDs. The LPF-RAD can be ordered through the
Custom Dynamics Web Site
.
Custom Dynamics also makes an inexpensive plastic backing plate that you can use behind your tag if you are concerned about road debris hitting the tag. The backing plate can be ordered through the
Custom Dynamics Web Site
.